15-year-old son of Yuri Shatunov came to say goodbye to his father – video
However, today at a mourning event, journalists saw Shatunov's son, 15-year-old Dennis. The young man stood near the coffin of his father, along with his other relatives – colleagues, relatives, comrades. Svetlana's mother and nine-year-old sister Estella were not near the boy.
You can discuss the latest news in our Telegram, VK, Yandex.Zen
Recall that the body of the musician should be cremated, as he bequeathed. "The burial of the urn will take place at the Troekurovsky cemetery on June 28," a source from the singer's entourage said. This ceremony will be closed, only the closest relatives and friends of Yuri Shatunov are allowed to attend.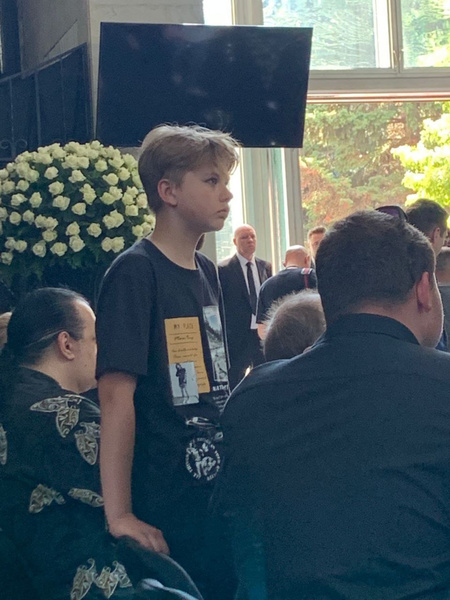 Recall that the singer died suddenly from acute heart failure on the night of June 23. He was on vacation with friends when he felt a sharp burning sensation in his chest. Due to problems with the ambulance and the inability to provide qualified assistance in the district clinic, a lot of time was lost. This became a fatal factor.
Yuri was brought to the city hospital in Domodedovo already in a state of clinical death. Doctors fought for his life, but all attempts by resuscitators were in vain. The singer died at the age of 48.
do not missWhat legacy did Yuri Shatunov leave to his wife and children
Is it all a tragic accident? A friend of the singer Andrei Shishkin noted that in fact Shatunov was not as healthy as the audience thought. In winter, after a concert tour, the artist fell ill due to nervousness and lay in the clinic for 2.5 weeks with a general exhaustion of the body. Fatigue, incomplete examination and worries due to the trials with Razin – according to Shishkin, all this influenced the early departure of the star. "It was obvious that he was very tired. Of course, for sure, everything progressed inside. Of course, he was nervous because of the latest events with Razin and did not fully recover from his illness, "the singer's friend complained.
Photo: PhotoXPress
Video: "StarHit"